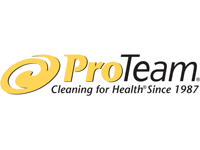 Find any part in 3 Clicks!®
ProTeam vacuum parts: Find any ProTeam part in 3 clicks!
Proteam has changed the way business do cleaning. Their innovative back-pack designs make it easy for companies to get spaces clean, efficiently. Every business understands the importance of investing in solid business products, and saving money on costly machine replacements is paramount. Why replace a critical business component when, in almost every case, your Pro-Team machine can be fixed for a fraction of the cost? That's why we say: If It's Broke, Fix It!
We understand your time is valuable, and having your critical Pro-Team Vacuums working like new will save you time and money. We have all the specialized Pro-Team Commercial Vacuum Parts, belts, bags, and filters you'll need to get your machines back to 100%. PartsWarehouse is the Largest Online Vacuum Parts Retailer in the United States, so we know business; and we know timing is everything. So we've made the parts search simple, with manufacturer model schematics, easy model search, and a team of support staff can help you get Proteam Parts quickly, so your business assets can get back to work for you.
ProTeam Company History and Information
ProTeams innovative backpack style vacuum cleaners changed the way companies cleaned. By providing lightweight, easy-to-maneuver vacuums that can go virtually anywhere, including tight spaces, ProTeam vacuums meet commercial cleaners needs. ProTeam vacuums provide 20 different vacuums to fit individualized cleaning needs for professionals. Since ProTeams start in 1987, the company strives to provide machines that are a perfect fit for all industries. One such machine, the ProTeam Aviation Vac, is designed specifically for the tight contours of airplanes.
By streamlining each ProTeam vacuum cleaner and ProTeam vacuum parts for commercial use, its innovative techniques have boosted the company to the top of the commercial cleaning industry. Demonstrating the ProTeam vacuum cleaners and ProTeam vacuum attachments at trade shows for commercial businesses, ProTeam vacuums are highly recognized for niche cleaning. As each ProTeam vacuum cleaner is made for a specific purpose, such as the ProTeam QuietPro used in hospitals and doctors offices, there is a model for every commercial cleaning need. By performing research and promoting Cleaning for Health, ProTeam makes healthy spaces a priority.
The company shares their research freely, which is vital to the cleaning industry and raises cleaning standards for businesses worldwide. Team Cleaning, a process that cuts cost and time, was introduced by ProTeam to better serve commercial cleaners. This process assigns each cleaning team member specific tasks rather than zones to clean, thus allotting for easier, more efficient training and less mess left behind. As ProTeam is dedicated to making the cleaning process more efficient and saving businesses money, this system is regarded as a success. ProTeams triumph in the commercial cleaning market derives largely from the companys focus on meeting specific needs that no other vacuum cleaner company can. By providing machines that can go virtually anywhere and can clean virtually anything, ProTeam is sure to make your home or business shine easily and efficiently.
As ProTeam is dedicated to making machines that will last, PartsWarehouse.com is dedicated to maintaining them. For any and all ProTeam parts, PartsWarehouse.com will have your ProTeam vacuum cleaner making your home or business healthy again without putting your budget in the red.