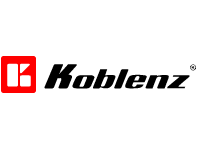 Find any part in 3 Clicks!®
Koblenz Parts Warehouse: Find and Koblenz Parts in 3 Clicks or Less!
Koblenz floor care machines are a trusted authority in home and commercial cleaning applications. Buying a Koblenz machine is an investment into clean, healthy spaces, and we know how important that is for you. When you purchase a Koblenz, you buy a machine that is going to last, and in almost every case, fixing a machine is a fraction of the cost to replace it; that's why we say: If It's Broke, Fix It!
Whether you have a Koblenz Floor Polisher, a BackPack Vacuum, or a Shampoo Polisher, we've got the Koblenz Parts you need. With our model schematics and easy search features, finding the Carpet Cleaner Parts, filters, or pads is easy. You can also feel confident that you'll get Original Manufacturer Koblenz Parts from the Largest Online Vacuum Parts Retailer in the United States. So get started now, find your model and get the parts you needed sent to your door at the best price, guaranteed!